We've lived in our house for a year and a half and this past weekend I finally got around to painting a room, our master bathroom. It all started with a new shower curtain. I finally found one, I love! At least I hope I do, I haven't hung it up yet. The colors in the new shower curtain don't work well with beige. So, I
had to
chose to paint the ceiling and walls to better match the shower curtain.
Here's a picture of what our bathroom looked like the day we moved in, before painting the trim and doors, replacing the light fixture and cabinet knobs.
Here's what it looked like before I painted.
And here is the shower curtain we had, yes it does say Roxy on it. I'm a little embarrassed to say I was 29 with a Roxy shower curtain. I'm sure my husband wasn't too thrilled with it either. I swear when I looked at the picture on the package when I bought it, it didn't show the Roxy logo on it. I do like the colors in it though.
I painted our ceilings Bistro White, the same color I used on all our
doors and trim
. Luckily we had enough paint left over from that project to paint the ceiling. And check out yesterday's
post
to find out how to get a free Valspar paint sample.
Bistro White
Ceiling painted
I chose a light grey color, silver anniversary, for the walls. I went with the mold and mildew proof paint that is recommended for bathrooms. I took advantage of the "Bag Sale" at
Ace
on Saturday and saved 20% on my entire purchase.
Side note - I also bribed Parker with the free popcorn at Ace to get him to agree to go. Not that he had a choice, but it made for a more enjoyable shopping trip.
Silver Anniversary
Here are a couple after shots. It looks a little blue, but its light grey. I really like it and it lightens the room up quite a bit.
I haven't had a chance to hang the new shower curtain yet, I'm giving the a paint a couple days to cure before I hang up the new shower rod and curtain. You'll have to check back tomorrow to see how it looks. Super suspenseful, I know.
Cheers!
I'm linking up to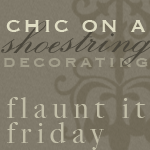 Sumo's Sweet Stuff